PPSR Searches
The PPSR is a national online register that can provide information to help limit your risk when buying personal property. The PPSR is an online noticeboard, on which: you can register a notice to show that you have rights over personal property which secure a debt or obligation that someone owes you.
MSA National provides you with full access to the PPSR. You will be able to complete searches on:
Organisational Grantors
Secured Party Groups (SPGs)
Serial Number Searches
Combined ASIC and PPSR reports
And more
Our helpful FAQs page provides information on the PPSR.
Types of PPSR Searches Available
Organisational Grantor search - identify whether an organisation has any registrations over their personal property.
Individual Grantor search - identify whether an individual has any registrations over their personal property
Serial Number search - identify registrations for

Motor Vehicle using a VIN number check
Watercraft
Aircraft
Intellectual Property

Registration search - allows users to enter a specific registration number and retrieve its details
Ordinal search - allows users to determine the order of any two specified registration events. A registration event is something has a change number allocated to it, or is an expiry date.
Key features of PPSR Searches
PPSR bulk order functionality with auto verification of ACN, ABN & Name.
Auto settings to group orders into a single email.
Auto issue email of specific PPSR results eg. Summary, Certificates and Attachments, or selected results.
Flexible delivery options from home page of PPSR results list – Summary, Certificates, Excel options.
Re-issue results options anytime at no extra cost– Certificates, Summary, Excel.
Verification and auto match of Name/ACN/ABN.
Ability to export your PPSR Search to excel format tosort and manage results.
Search three PPSR criteria at once including ASIC Company Search.
Secured Party Groups (SPGs)
MSA National gives clients the ability to create a secured party group, manage PPSR registrations.
A secured party group is the individual or organisation who holds a security interest in personal property (PPSR). A secured party group is a system construct used by the PPSR to help secured parties manage their registrations.
The SPG can have any combination of individual or organisation secured parties.
ASIC & PPSR Combined Report
When ordering an ASIC Search from MSA National, you have the option of including a PPSR Search which will return a Combined Report along with your ASIC and PPSR results in one PDF. The Combined Report uses smart technology to collate data from your ASIC and PPSR Search results and highlight areas of potential risk.
The Combined Report includes ASIC & PPSR results along with the following:
Summary of ASIC & PPSR Data
A colour-coded summary of your search information which highlights areas of risk and allows for easier and faster consumption of ASIC & PPSR data.
A snapshot of the company's credit history details risk data including court judgments, payment defaults, insolvency notices, mercantile enquires, credit enquiries and credit score.
**The following is to be inserted as per the comment above re: Vin numbers
Vehicle VIN number check
Before you buy a second-hand motor vehicle you should check that there are no existing security interests on it by searching the PPSR and performing a VIN check. If a security interest has been registered against the vehicle, it may not be debt-free and may be repossessed, even after you have bought it.
Make sure you search the PPSR on the day, or the day before, you intend to make your purchase, to ensure it is:
free from debt
safe from repossession
not reported written off
not reported stolen.
A VIN check is also sometimes referred to as a REVS Check in particular states.
You can perform a vehicle check in the following states:
NSW
VIC
ACT
QLD
SA
WA
TAS
NT
Why run a vehicle VIN check?
Knowing the history of a used car is important before you buy. It can save you time and money down the track and removes any uneasiness in the purchase cycle. The vehicle history report will show past ownership, liens on the vehicle, title and accident history amongst other things.
Where can I find the VIN?
Common places to find the Vehicle Identification Number (VIN):
Front of the engine block
Passenger side interior windshield
Passenger side door jam
Front end of frame
Your VIN can be found in your registration and insurance documents
The VIN is exactly 17 characters in length
The letters 'I', 'O' and 'Q' never appear in a VIN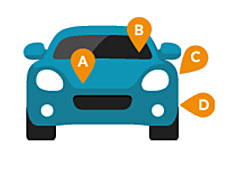 PPSR FAQ's
The Personal Property Securities Register (PPSR) provides a single system where all registrations of security interests in personal property have been combined to create a comprehensive, publicly accessible database. This database has been created so it is possible to view security interests registered against specified collateral. It is available to the public and can be used by consumers, businesses and the finance industry, as well as by those who sell collateral on consignment or credit.

The new PPS Register was introduced nationwide in January 2012, providing a streamlined service that is easily accessible to both businesses and consumers. The initiative behind incorporating registers into one national database is to provide fast, accurate information on registered personal property in Australia, instantly allowing the public to see whether there is security interest registered against it. The register also aims to assist in increasing the availability of finance, and to reduce possible additional costs that can be associated when making insufficiently informed decisions on purchases.

Those who use the PPSR are purchasers, interested parties, or secured parties (those who have registered their interest against the personal property). To understand the functions of the PPSR fully, it is important to know the basic concepts involved.
Any form of possession, not including land. It must be possible for this "personal property" to be transferred ownership from one party or individual to another. For example, this includes tangible or physical items such as cars, boats, art, shares, livestock, but also in tangible concepts such as intellectual property or licensed rights.
A secured party is any entity that has interest in collateral. Basically, this means that the specified party has an interest in seeing that the total value of the collateral is paid in full to the provider of the collateral. These parties use the PPSR to register the value and information related to their collateral for public use, and to protect themselves against loss. The secured party could be an individual or a company.
Imagine the PPSR as a noticeboard of security interests. By registering client security interests there are several advantages. Firstly, a priority ranking can be established between registrations made against the collateral, and secondly in cases of liquidation or bankruptcy, the registration of interests confirm who is entitled to be compensated first. Being able to register your client's security interests is a valuable service, as it can help protect them from potential financial loss.
Central to the creation of the PPSR is the intention to improve levels of debt protection, both for individuals, and for organisations who have an interest in secured personal property, as well as being for those who are involved in potential transactions related to collateral. As the sole source of national information on personal property, the register aims to eliminate any uncertainties around validity of the search results, as it is committed to supplying the most current information possible.
The final transitional period provided under the Personal Property Securities Act 2009 (Cth) (PPSA) is closed. This 'period of grace' provided time for users to update migrated registrations to meet the requirements of the PPSR. The transition period ended on 30 January 2017 for registrations that were migrated without an end date.